Cisco's stock (NASDAQ: CSCO) has grown by roughly 70%  from the beginning of 2017, which has been an excellent return for the investors, but F5 Networks' Stock (NASDAQ: FFIV) has declined by about 5% over the same period. It is hard to believe that Cisco has outperformed F5 Networks' stock by far – especially since Cisco's revenue growth over 2016-2019 stood at 5.4%, while F5 Networks' revenue grew by 12.4%. Wouldn't F5 Networks the better bet in the long run? For sure. F5 Networks seem to be the stronger investment, as we highlight in our dashboard Cisco vs. F5 Networks: Does The Stock Price Movement Make Sense? 
Cisco's profit margins (net income as a percentage of net revenues) are higher at 22.4% versus 19% for F5 Networks, but this hardly justifies the stark difference in stock returns – especially since both the companies have witnessed a steady improvement in the margin figure over the last three years. Cisco's profit margin has expanded from 21.8% in 2016 to 22.4% in 2019, whereas F5 Networks' margin figure has gone up from 18.3% to more than 19% over the same time frame. Notably, though, Cisco's earnings (EPS) have expanded by more than 20% over 2016-2019 while F5 Networks' earnings have remained flat, which could partially explain Cisco's outperformance. However, we believe F5 Networks' looks promising despite its P/E multiple being higher at 19x based on its current market price and FY'19 EPS, vs. Cisco's P/E of around 17x.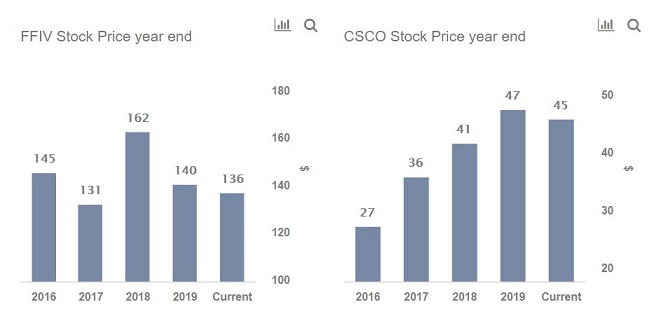 How Do The Core Businesses For Cisco And F5 Networks Compare?
Let's look at the core business prospects a bit more closely. Cisco is heavily dependent on its hardware business, which includes switching, routing, and data center products – contributing around 60% of its revenues in FY2019 (ending September). The coronavirus outbreak has had a sizable impact across the globe, which has affected industrial and economic activity. This is likely to adversely impact Cisco's revenues as major companies are likely to delay expenses related to upgrading infrastructure and software. Further, continued weakness in the service provider market will continue to impact the demand for hardware products. However, Cisco is transitioning towards a software-focused business model, which will enable it to drive growth post the Covid-19 crisis. More information about Cisco's revenues forecast over FY2020-21 is available in a separate interactive dashboard.
On the other hand, F5 Networks is a leading provider of multi-cloud application services, which allows its clients to develop, deploy, operate, secure, and govern applications in any architecture. The outbreak of coronavirus has actually had a positive impact on the company's business as digital usage has received a real push as most employees are working online and working from home. Even brick-and-mortar companies have been forced to experiment with the digital channel. This has boosted demand for the company's security solutions as well as multi-cloud application services offerings. During Q2 2020 earnings (ending February), F5 saw a surge in demand for its solutions related to critical application infrastructures.  The company also witnessed increased demand for capacity as customers looked to scale their remote access capabilities. Notably, the company witnessed an increase in revenues across both its services and products business.
In addition, F5 has largely remained immune from the impact of Covid-19, and we expect these tailwinds to persist. Even if the situation worsens, the company is in a better position than other companies to face the repercussions of the outbreak due to its unique business model. Although Cisco has a stronger financial position compared to F5 Networks, F5 Networks' strong cloud business will continue to thrive despite the pandemic.
To distill, we believe F5 Networks is likely to outperform Cisco, if not near-term, at least in the medium- to long-run.
There may be an even bigger opportunity when you compare IHS Markit To Google.
See all Trefis Price Estimates and Download Trefis Data here
What's behind Trefis? See How It's Powering New Collaboration and What-Ifs For CFOs and Finance Teams | Product, R&D, and Marketing Teams