Despite a 38% rise since the March 23 lows of this year, at the current price of around $35 per share we believe Boston Scientific (NYSE:BSX) looks attractive and it has more room for growth. Boston Scientific stock has rallied from $26 to $36 off the recent bottom compared to the S&P which moved 40%, with resumption of economic activities as lockdowns are gradually lifted. BSX stock is also up 43% from levels seen in late 2017, a little over two years ago.
Boston Scientific stock has partially reached the level it was at before the drop in February due to the coronavirus outbreak becoming a pandemic. Despite the healthy rise since the March 23 lows, we feel that the company's stock still has potential given the gradual opening of hospitals for elective surgeries, and an attractive valuation that may appeal to investors.
Some of this 43% rise of the last 2 years is justified by the roughly 19% growth seen in Boston Scientific's revenues from 2017 to 2019, which translated into a 28% growth in Net Income. Given the company's steady revenue and earnings growth over recent years, its PE multiple has also expanded. We believe the stock is likely to see more upside despite the recent rally. Our dashboard, 'What Factors Drove 43% Change in Boston Scientific Stock between 2017 and now?', has the underlying numbers.
Boston Scientific's PE multiple changed from 20x in 2017 to 29x in 2019. While the company's PE is now 22x there is an upside when the current PE is compared to levels seen in the past few years. PE of 24x at the end of 2018 and 29x as recent as late 2019.
So what's the likely trigger and timing for further upside?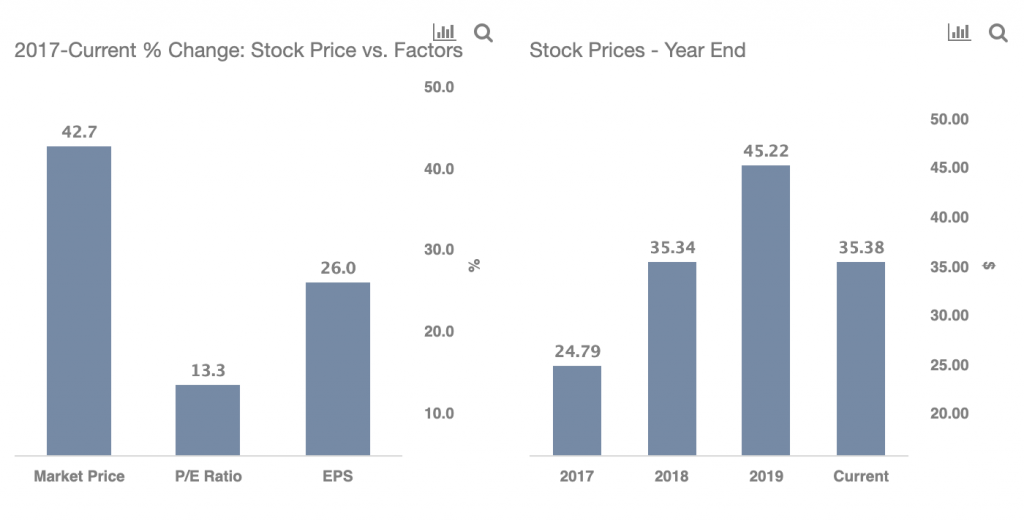 The global spread of coronavirus has resulted in postponement of elective surgeries, especially in Q2, as health care institutions primarily focus on Covid-19 and other emergency cases. This directly impacts the business of Boston Scientific, which makes several products from coronary stents to endoscopic devices used in the medical field. We believe Boston Scientific's Q2 results on July 29 will confirm the hit to its revenue. That said, it's a transient phase for the industry, and most of the surgeries being postponed will eventually be attended to by the healthcare institutions, though the backlog will be huge and challenging to address. It is estimated that there could be a backlog of over a million surgeries only for joint replacement and spine cases in the US by 2022.
However, over the coming weeks, we expect continued improvement in demand and subdued growth in the number of new Covid-19 cases in the U.S. to buoy market expectations. Following the Fed stimulus — which set a floor on fear — the market has been willing to "look through" the current weak period and take a longer-term view. With investors focusing their attention on 2021 results, valuations become important in finding value. Though market sentiment can be fickle, and evidence of an uptick in new cases could spook investors once again.