D.R. Horton, Lennar, and KB Homes: Stocks To Play The Housing Recovery

---
The U.S. housing market has shown signs of recovery despite the coronavirus pandemic, with demand appearing to outstrip supply with inventory remaining tight. Pending home sales – a measure of signed contracts on existing homes – jumped 44% month over month in May and were down just 5% year-over-year per the National Association of Realtors, while the supply of existing homes was nearly 19% lower year-over-year. [1] Sales of newly built homes also rose 13% year-over-year in May. So does the improving demand and tight supply make a case for investing in housing stocks?
While there remains considerable risks – given the uncertain direction of the health crisis and tough unemployment numbers  – we've picked 5 stocks with exposure to the housing market  – including D.R. Horton, Lennar, and KB Homes – which could offer upside if the market continues to expand, while providing some level of downside protection if things take a turn for the worse. These companies are reasonably large and well established (market cap over $2 billion), have been seeing steadily expanding demand (consistent 3-year revenue growth) with pricing power also improving (rising operating margins). Moreover, these companies have relatively manageable leverage. See our dashboard analysis 5 Housing Stocks That Could Outperform: DHI, LEN, KHB, PHM, IBP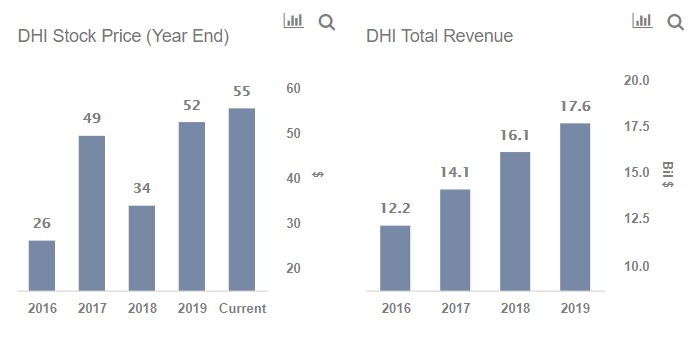 What's Driving The Housing Market & What Are The Risks?
While the surge in demand is partly due to pent up demand post the lockdowns of April, lower interest rates have also been a big driver. The 30-year mortgage rate is at multi-year lows, currently standing at roughly 3%, versus about 4.8% in 2018, making it cheaper for people to finance homes. Separately, the trend of working remotely could increase demand for larger homes as people look to upsize. People living in cities and more densely populated areas could also choose to move to the suburbs, driving demand for single-family homes. That said, the longer-term picture is still somewhat fluid. Unemployment is still at multi-year highs with economic growth likely to decline by double-digits in Q2 and daily coronavirus cases have also surged to new highs over the past week meaning that the worst of the health crisis may be far from over. This could make people more circumspect about taking on large, long-term commitments such as buying a new home.
See all Trefis Price Estimates and Download Trefis Data here
What's behind Trefis? See How It's Powering New Collaboration and What-Ifs For CFOs and Finance Teams | Product, R&D, and Marketing Teams
Notes:
Pending Home Sales, NAR, June 2020 [↩]
---