The Berman Value Folio is a groundbreaking monthly investment report aimed at identifying undervalued stocks through interactive analysis. Portfolio Manager James Berman, president and founder of JBGlobal.com, guides you through his rationale for specific companies.
He examines the key business drivers and "stress tests" the company to see if the value holds up under bearish scenarios. He also invites you to test your own assumptions by linking to Trefis.com. No canned commentary with a limited shelf life, this is a real-time report that can be altered with your own inputs. James has a fifteen year history of uncovering value for his clients; please see his performance figures here.
Download a recent issue of The Berman Value Folio for free. The Berman Value Folio model portfolio has delivered a total return of 114% since inception in December 2011. (Past results are no guarantee of future performance -- please review full disclaimer before any purchase or investment).
You can also download the first page of the most recent issue for free.
For more great insights into investments, check out Berman's recent book:
Lessons from the Lemonade Stand.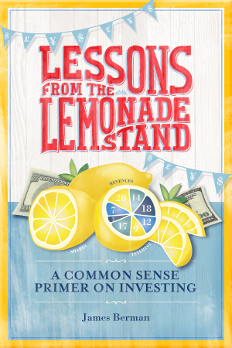 Current Issue: "Folio: Final Words"
"Through October 31, 2016, the Folio returned a total of +99% (since inception nearly five years ago on December 21, 2011) versus +78% for the S&P 500 Index and +54% for the Vanguard Total World Stock Index. I think this demonstrates that value investing works, but I thought that already. I'll let you, the reader, make up your own mind."
Create your Trefis account and Download Report