Microsoft (NASDAQ:MSFT) has added over $800 billion dollars in market value since the end of 2017, with the company now valued at close to $1.5 trillion. This is more than the combined value of the smallest 120 companies in the S&P 500 and there are just three other U.S.-listed companies with a market cap of $800 billion or more at the moment. So how did this happen?
Here's how: Microsoft added over $29 billion in total revenue between FY'17 and FY'19 (fiscal year ends in June), marking an increase of just over 30% over two years. Margins also expanded from about 26% to 31%, taking its Net Income from $25.5 billion to $39.2 billion – producing roughly $14 billion in additional annual profits for investors. At a multiple of 57x on these incremental profits, this translated into $800 billion in additional value between 2017 and now!  Overall, Microsoft's trailing P/E multiple expanded from about 25x at the end of 2017 to about 40x currently driven by its transition to the cloud and an increasing mix of subscription-based software sales, which investors view as more stable and lucrative compared to upfront purchases.
Our dashboard What drove the 150% Increase in Microsoft's stock breaks this down for you. Now, where did $29 billion in revenue growth come from?
Intelligent Cloud, which sells public, private, and hybrid server products, and related cloud services grew revenues by $11.6 billion, an increase of 42%.
Productivity And Business Processes, which includes Office, LinkedIn, and Microsoft's on-premise and cloud enterprise solutions grew by $11.3 billion, an increase of 38%.
More Personal Computing, which sells operating systems, devices, gaming offerings, and search products, grew revenues by $6.4 billion, an increase of 16%.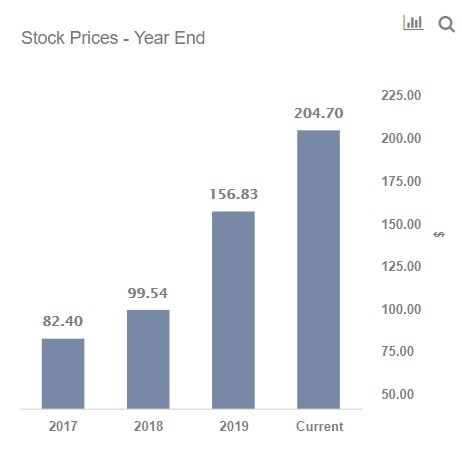 Could This Happen Again In The Next 3 Years? 
If Microsoft's Revenues grow by about 40% between FY'19 and FY'22 (average growth of 12% per year, which is below the roughly 15% annual growth rate seen over the last 2 years), with Net Margins remaining flat at around 31%, the company's earnings would also grow by about 40%.
Now if earnings grow 40%, the P/E multiple would shrink by a similar amount (about -30%), assuming the stock price stays the same, correct? But that's exactly what Microsoft investors are betting will not happen! If earnings expand 40% through FY'22, instead of P/E shrinking from around 40x presently to about 30x, a scenario where the P/E metric falls to about 35x or even remains flat at current levels of 40x looks quite likely.
For perspective, the broader software sector trades at a trailing multiple of over 60x – and Microsoft (despite its size) could largely retain its current multiple. [1] This would make a 40% growth in Microsoft's valuation (about $600 billion in incremental value) to over $2.1 trillion a real possibility in the coming years.
Which Segments Will Keep Revenue Growth Humming Along?
There appear to be no hurdles in sight for Microsoft's fast-growing cloud segment. If anything, Covid-19 is likely to stoke demand for the Azure cloud solutions, as more businesses move online. Over Q3 FY'20 (ended March), Azure revenues grew by 59% year-over-year – making it the fastest-growing player among cloud computing majors. And the momentum should continue over fiscal Q4 as well.
The Productivity And Business Processes segment should also continue to benefit. As more people work from home, companies are likely to invest more in productivity and collaboration software to empower their increasingly distributed workforces. Products such as Office and Microsoft Dynamics should get a boost from this. To put this broadly into perspective, Microsoft's CEO indicated that the company had seen "two years worth of digital transformation in two months" [2]
While Microsoft offers a promising proposition to potential investors, could investing in debt-laden, down-but-not-out companies yield large upside post-Covid? Find out more in our analysis The Leveraged 5: AAL, CTL, COTY, OXY, HOG.  Prefer lower-risk companies that could still outperform? Check out our analysis 5 In S&P 500 To Beat The Index? TWTR, ISRG, NFLX, NOW, V
See all Trefis Price Estimates and Download Trefis Data here
What's behind Trefis? See How It's Powering New Collaboration and What-Ifs For CFOs and Finance Teams | Product, R&D, and Marketing Teams
Notes:
PE Ratio by Sector, NYU Stern, January 2020 [↩]
2 years of digital transformation in 2 months, Microsoft, April 2020 [↩]