Microsoft's stock is up by over 100% since the beginning of 2018. That's great for Microsoft. But wait a minute, Google's parent Alphabet's stock is up a meager 22% during the same period. Hard to believe, but Microsoft's stock is up more than 4x Google's stock. This, despite the fact that Alphabet's revenue growth for the 2017-2019 period stood at 46%, compared to just 30% for Microsoft. Does that make sense? We don't think it does, and believe Google is likely a strong investment right now. Our dashboard Google vs. Microsoft: Microsoft's 4x Price Rise Won't Last, has the underlying numbers.
Sure, Microsoft's profit margins (net income as a percentage of sales), are higher at 31% versus 21% for Google, but we believe the difference doesn't explain the 4x growth in Microsoft's stock when compared to Google. Microsoft's P/E is also much higher at 34x based on its current market price and FY'19 EPS, while Google's is 26x.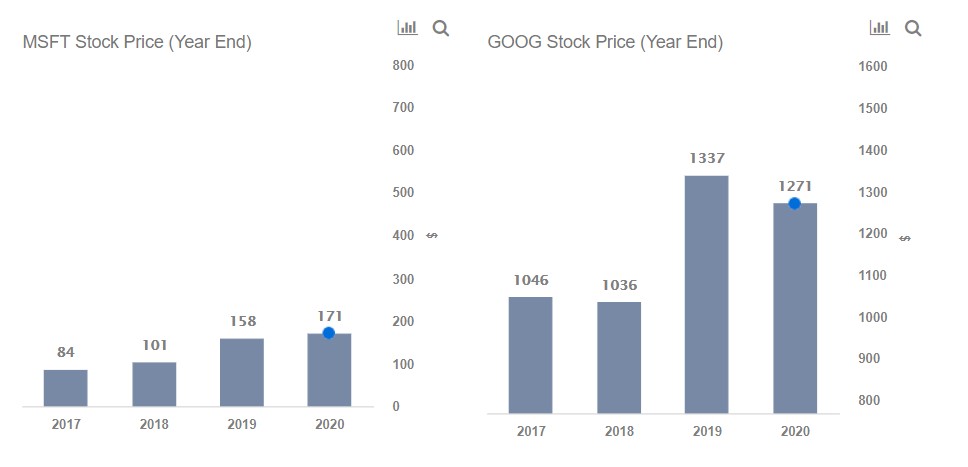 How Do The Core Businesses For Alphabet And Microsoft Compare?
Let's look at the core business prospects a bit more closely. Google has massive advertising exposure from travel, restaurants, and the broader consumer discretionary spend decline. It is possible that Alphabet's earnings next week paint a grim picture, while Microsoft's will look strong. On the flip side, businesses of all stripes, from mask sellers to restaurants, need any customers they can get – now – and primarily online. It is possible that Google's pay per click advertising, for which marketers only pay when their ads get results, could hold up stronger than we realize.
In addition, while Microsoft looks a bit more immune with its focus on productivity and cloud software along with Windows and the Office Suite (Word, Excel, and PowerPoint) applications that are internet "utilities", Google's isn't far behind. In fact, with a formidable and growing presence across enterprise cloud, Google Drive storage, Google suite applications: from Gmail to Chrome, and Docs, Sheets, and Slides, it might even be considered ahead in the game. We believe while many of these offerings make much less money for Google than for Microsoft, they provide a promising floor to our belief of Google being undervalued versus Microsoft.
The final straw may be Google X's diverse bets that range from Waymo (driverless cars) to Verily and Calico (life sciences) to Deepmind (Artificial intelligence systems) that again present upside in a world where asking seemingly wacky questions and then putting your money to find answers, might be the only sane path forward. To distill, we believe Alphabet is likely to outperform Microsoft, if not near-term, at least in the medium- to long-run.
There may be an even bigger opportunity when you compare Google to Apple.
See all Trefis Price Estimates and Download Trefis Data here
What's behind Trefis? See How It's Powering New Collaboration and What-Ifs For CFOs and Finance Teams | Product, R&D, and Marketing Teams