L'Oreal (OTCMKTS: LRLCY) is scheduled to announce its fourth quarter earnings on February 8. The company has outperformed the global beauty market and posted solid growth in the last three quarters reporting 4.5% y-o-y growth in total sales to reach €19.5 billion. Several factors have contributed to the company's growth including strategic acquisitions, digital initiatives, and the Asia Pacific market where China's strong demand for beauty products has boosted sales and profits. In the coming earnings, we anticipate L'Oreal to continue to post good growth driven by a strong foothold in the beauty space and ongoing growth in the online retail network.
Please refer to our dashboard analysis on L'Oreal.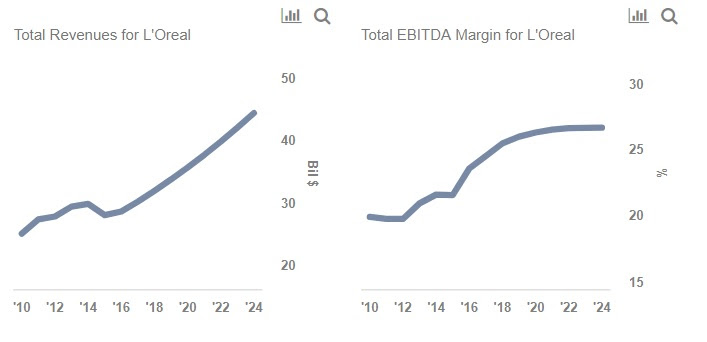 Below we discuss L'Oreal's main growth drivers and strategies that will likely help it in maintaining its dominance in the beauty market in the upcoming fourth quarter results.
Strategic acquisitions and growth in online retail –  L'Oreal's strategic acquisitions are proving to be key drivers of its performance. One of the key brands driving its Active Cosmetics segment's growth has been its 2017 acquisition of brand Cera Ve.  Lancôme, Yves Saint Laurent, Giorgio Armani, and Kiehl's, along with the 2016 acquisition of IT Cosmetics, are some of the other important brands acquired by the company that are contributing to its growth.
L'Oreal is also the third largest advertiser in the world and it is progressively strengthening its marketing with greater investments on digital initiatives annually. The strong digital presence coupled with sustained expansion of e-commerce sales is also boosting the company's growth.
Accelerated growth in new markets of Asia and western Europe – L'Oreal's new markets are some of the best performers, particularly the Asia Pacific market in which China is driving strong growth for the company. Chinese travelers are one of the highest spenders both in the domestic and international markets, making this market one of the key focus areas for the company to boost its travel retail sales. Consequently, China has emerged as one of the most important markets for the growth in beauty sales. Western Europe is another key market that has driven L'Oreal's growth and we anticipate this trend to continue.
Excellent performance of L'Oréal 'Luxe' and 'Active Cosmetics' Division – Global growth of the prestige beauty segment is outpacing growth in the mass beauty segment. We expect this to benefit L'Oreal's premium brands which earn the company higher profit margins. In the first 9 months of 2017 L'Oreal's Luxe Segment has grown by ~11% like-for-like driven by makeup and facial skincare sales. Travel retail sales has been one of the key channels for the company to boost its sales of luxury cosmetics. With growth in passenger traffic and conversion of passengers to buyers, this channel will continue to be one of the most important ones for sales of luxury beauty products in the fourth quarter as well.
L'Oreal's Active Cosmetics segment grew by 5% like-for-like for the first nine months and the best selling brands have been La Roche-Posay, Vichy, Cera Ve, and Skinceuticals. L'Oreal is one of the leading names in the active cosmetics market. In an effort to further grow this segment L'Oreal acquired skincare brands, CeraVe, AcneFree, and Ambi from Valeant Pharmaceuticals for a sum of $1.3 billion in early 2017. These brands are expected to strengthen the company's ties with health professionals who are key towards developing products in the active cosmetics market. L'Oreal's market position in North America, the fastest growing geography for active cosmetics, is expected to further grow due to these acquisitions.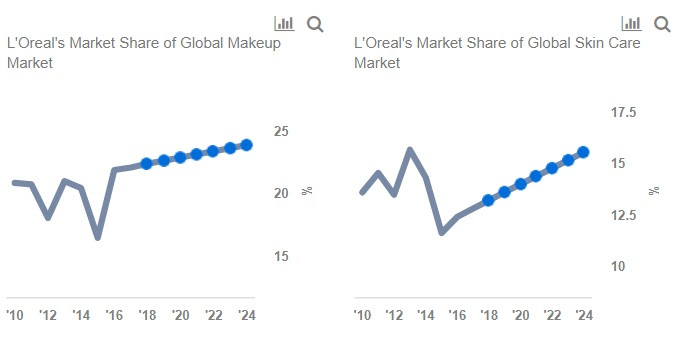 In all, we expect L'Oreal to continue to post strong growth in the coming earnings and start the fiscal year with solid momentum.